There are tons of common questions about digital marketing we hear a lot at Bluleadz.
In an effort to pull back the curtain and reveal more behind-the-scenes magic, we've compiled this list of the 38 top digital marketing questions.
Search Engine Optimization (SEO)
1. "How Long Does It Take for SEO to Work?"
It takes around three months for a well-executed SEO campaign to start paying off. Anyone who tells you they can get SEO results faster than that is usually up to no good.
Pound for pound, SEO is the best way to achieve lasting online visibility and get a steady stream of qualified leads delivered straight to your business.
While there are other methods that may work faster – pay per click advertising is the biggest one – they entail bigger risks. SEO provides major competitive advantages market rivals can't beat just by coming along with a bigger budget.
2. "When Can I Stop Working on SEO?"
via GIPHY
SEO is a marathon, not a sprint. The sooner you get started, the sooner you'll see results. On the flip side, the longer you keep it going, the longer those results will last.
The three-month "setup" period a good SEO campaign needs is well worth it. That's the time when your whole website is aligned with SEO. Everything you do in the future will produce benefits you expect and keep fueling your search engine success.
If you stop paying attention to SEO, you might maintain rankings for certain searches you focused a lot of resources on in the past. In the long run, though, motivated competitors will leave you in the dust. It's never a good idea to just quit digital marketing.
If you've noticed a dip in your SEO rankings, it might be time to perform an SEO Audit to see where you could improve on your website. We can do that for you.
3. "Do Small, Local Businesses Need Digital Marketing?"
Yes! No matter how large or small, if you have a business, you need a website.
And if you need a website – and you want it to help you make money – you need marketing.
If you don't plan to take orders, reservations, or even customer questions on your website, it still has a role to play. Google uses information from your site to answer queries from users on mobile devices traveling near your business.
So, for example, if someone types in "Italian restaurants near me," your site will only come up if you've put some work into the marketing side.
This can help you add dozens or even hundreds of visitors to your foot traffic, so it's very much worth it. In fact, small businesses can find modest digital marketing investments make a bigger bottom line splash than they would for a far larger "online-only" company.
4. "Is It True You Can Get Banned From Google?"
Yes. You can get banned from Google – the technical term here is "de-indexed."
Although this is a very serious setback and it does still happen occasionally, it was a lot more common back in the old Wild West days of search circa 2005.
Unscrupulous people would try to game Google's system and would soon find their sites totally removed from search results, often never to return. Complete de-indexing is rare nowadays, but sites found to be cheating face harsh penalties, often within a few days or weeks of the offending behavior.
If you are falsely found to be cheating, there is a human review process. But don't worry: This is very unlikely to ever happen to you or your company.
5. "I've Heard Scary Things About Ferocious Pandas and Penguins. What Does That Mean?"
via GIPHY
"Panda" and "Penguin" were names given to two major changes in the way Google scores and sorts search results back in 2011 and 2012. It's not really important what they did (things have changed a lot since then), but their effect on how people see SEO is still felt.
Back then, Google would make dozens or hundreds of small but important changes to its rules over the course of a few days. SEO experts would have to pick these apart to figure out what they did, and sites found not following these new rules usually suffered seriously in search results.
Because of that, lots of shady characters started to use the words "Penguin" and "Panda" in their marketing – promising, for example, services that were "Panda-proof."
These days, smaller tweaks to how Google operates are taking place all the time. Seismic shifts that get their own special names pop up now and then, but it's not standard operating procedure.
If you hear about Panda or Penguin now, you know the speaker is behind the times. They might even be trying to spook you into buying something you don't need.
6. "Does Google Ads Really Mean Immediate Traffic?"
Yes – you can get traffic overnight with Google Ads (formerly known as Google AdWords), a paid traffic solution that shows ads to people when they search keywords relevant to your website.
But Google Ads isn't a silver bullet. It won't get you sales unless your website is set up to take advantage of that traffic. (Heck, unless your ads are optimized very carefully, you won't even get the traffic.)
All too many business owners have fallen prey to Google's $100 AdWords vouchers. They punch in a few quick ads and hope for the best, but end up paying hundreds or thousands with nothing to show for it. Help from a paid traffic expert is essential.
7. "Why Does Keyword Research Matter?"
The foundation of any successful SEO strategy is built upon keyword research. When you truly understand your audience, you can identify what queries they're using. This gives you the opportunity to create valuable content and get found by your ideal audience.
Keyword research provides direction for your content strategy. When you're conducting this research, you want to look at long-tail keywords you can be targeting throughout your site and analyze your competitors to see what keywords you want to compete for.
8. "How Does Video Impact SEO?"
There are many ways that video content on your site can improve your ranking potential:
Google values content that is varied and informative, so presenting other types of media (e.g., video) on webpages improves SEO efforts.
Video keeps visitors on your site longer, which improves your bounce rate and signals to search engines that people are finding quality information they need.
Generally speaking, video content earns more links from people, and building a healthy link profile is a critical ranking factor that Google uses to determine rankings.
Video opens channels for driving more traffic to your site (e.g., people watch your YouTube channel or video posts on social media and visit your site from there), and traffic is another key factor in rankings.
Content Marketing
via GIPHY
9. "What Is a Blog?"
A blog is the part of your website that's constantly updated. Every time you post a piece of writing – which you might hear called a post or article – it shows up on your blog.
It's a great way to keep leads and customers up to date on the latest news.
10. "Ok, But Why Do I Actually Need a Blog?"
Your blog is the most powerful digital marketing tool on your website.
This is true for a whole host of reasons:
A blog will help your site appear higher in rankings for searches related to your products.
People can subscribe to a blog, giving you a direct channel to communicate with them.
Most early-stage conversions (such as email subscriber sign-ups) come from blog posts.
When a blog is frequently updated, it makes your site seem more active and trustworthy.
Your blog is the centerpiece of your site because it's where you showcase helpful, informative, useful content for site visitors. This makes them much more likely to pick you over a "brand X" website that doesn't offer them value until they plunk down some dough.
11. "How Do I Know What to Write About?"
Just about everything you ever write online will be aligned with a keyword – that is, a word or phrase users type into a search engine when they're looking for what you have to offer.
There are plenty of great tools for keyword research that any professional SEO expert masters long before offering digital marketing services.
Once your website is optimized for search, you'll have lots of other opportunities to figure out what kind of content will resonate with your audience. For example, data analytics software will constantly show you all the interesting and unexpected keywords people use to reach your website.
And, with social media and post-sale surveys, you'll also be able to ask them what they want.
12. "How Do I Know How to Write About It?"
Long story short, writing is a process. The best way to learn about it is to do more of it.
However, you don't have to be a writer to be effective in marketing your business online.
Although content should always convey your expertise, you don't have to write like Ernest Hemingway (or even like Dan Brown) to craft compelling work people will want to spend time reading.
A conversational, one-to-one tone has long been the key to showing warmth and building rapport with readers. If you want to get started with content, learn to write how you talk.
13. "How Do I Keep My Content Organized?"
via GIPHY
In the most basic sense, all you have to do to keep content organized is make sure each blog post includes a keyword or two to focus on. On a strategic level, the answer requires more planning and effort.
You'll need an editorial calendar to help you keep your content focused and released at a steady pace.
With a regular schedule directing what you put out when and to who will help make sure that your content is targeted and timely, which will bring in better leads.
Just make sure to stay agile with it. Sometimes current events or internal changes can mean you'll have to pivot in your planning.
14. "How Does Content Marketing Impact the Bigger Picture?"
Content marketing comes with several benefits that help companies grow, including the following:
Expand brand awareness by providing value for your target audience.
Foster trust and build credibility by delivering informative content.
Fill your sales pipeline with quality leads through targeted lead generation campaigns.
Conduct lead nurturing campaigns to move leads through the buyer's journey.
The content you create and provide for your audience is valuable when you build an effective strategy around each potential touchpoint of your customers.
15. "How Do You Measure the Effectiveness of Content Marketing?
This depends on the goals you set for your content strategy and what aspects of your strategy you need to measure. For example, if your primary focus is boosting traffic to your site, your metrics are going to align with areas like referral traffic, organic traffic, keyword rankings, and social shares.
You should always start every content strategy by defining what success looks like. When you know exactly what you want to accomplish, you can identify the right initiatives and tactics to use as well as determine your key performance indicators.
16. "What's the Best Way to Start Content Marketing?"
The first aspect you need to look at is your current resources. Determine how many people you have on your content team, your budget for content marketing tools (e.g., SEO tools, a CMS, analytics), your current content assets, and the timeline you have for hitting your business goals.
After understanding your current situation from a high level, dive deeper by conducting a content audit. This gives you some direction on what you should prioritize, sheds light on how relevant your current blog or other channels are, and delivers insights on your top performing content.
Content marketing is a long-term investment, and to see real results, you need to be consistently publishing and distributing educational content to your audience to fit their needs at the right time in the right place. Some companies can manage this internally, while others who want to see faster results and would rather defer to the experts outsource their content creation to freelancers or agencies.
Inbound Marketing
17. "What Is Inbound?"
via GIPHY
The inbound methodology applies to all aspects of business. Inbound marketing is built around delivering value to your target audience. You attract them with helpful content, then personalize their experience by directly addressing their needs in a way they prefer.
You can then nurture your qualified leads and continually educate them as you move them through their buyer's journey. On a larger scale, inbound accelerates business growth in three stages, from attracting and engaging site visitors and leads to delighting new customers, which aligns with the flywheel model.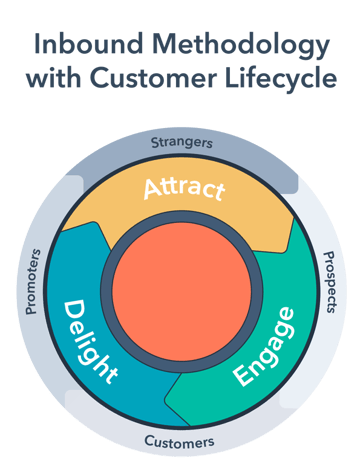 Source: HubSpot
18. "What Does It Have to Do With Marketing?"
Blog posts should be aligned with a stage of the buyer journey, which basically goes like this:
Awareness
During the awareness phase, a (future) customer just realized that there's a problem he or she needs to solve. This early research involves figuring out exactly what the problem is and what jargon is needed to learn more about it.
Consideration
In this phase, the customer understands the problem and wants to figure out what the options are. That means developing buying criteria and putting together a list of possible solutions to choose from.
Decision
Customers have narrowed down the possibilities to just a few options at this point. Now, it's time to take those and figure out which one is right for them personally.
Any one of the solutions could be effective, but only one will be the best solution for that individual. This is true in B2B too.
Ideally, your site will have sophisticated, high-value content throughout the buyer journey.
19. "How Much Does Inbound Marketing Cost?"
There are several factors that impact the overall cost of inbound marketing. You need to answer a lot of questions, like:
Do you have a current inbound marketing foundation in place?
How many internal team members can you dedicate to inbound marketing?
Are you looking for consulting services?
Are you planning to outsource inbound marketing initiatives?
Do you need to invest in new marketing automation software?
Once you know your goals, current resources, and plan for outsourcing, you can start to see an accurate estimation of what your inbound marketing will cost you. The breakdown of potential costs includes:
| | |
| --- | --- |
| Service | Cost |
| Developing an inbound marketing strategy. | $1,000 - $10,000+ in consulting fees. |
| Adopting a new marketing automation software. | $250 - $3,000+ per month. |
| Outsourcing content creation. | $75 - $175+ per blog post. |
| Designing and developing your website. | $2,000 - $40,000+ per website. |
As you can see, the wide ranges in prices depend on the amount of services you need and the quality of the teams you hire.
For example, you can hire a freelance writer on Upwork to write you a simple blog post for $50, or you can hire a tenured team of content marketers to provide higher quality, fully optimized blog posts that actually generate real results for a higher price.
20. "When Will I See Results?"
There is no magical number you can set for seeing results from inbound marketing. As a general rule of thumb, in our experience, companies start hitting their goals in as little as 90 days.
Our approach to inbound marketing calls for identifying quick win opportunities with clients. The faster you get to your first quick win (e.g., adding exit intent pop-up forms to drive more leads), the quicker you can start gaining momentum.
The best way to approach inbound marketing is to remember that it's not a sprint. As with anything in marketing, it yields compounding results over time when you apply efforts consistently.
21. "Will It Work In My Industry?"
Inbound marketing is impactful in every industry. Technology. Education. Travel. Non-profits. You name the industry, there are tangible results being generated.
Inbound works in all industries because it requires you to get to know who you audience is, how they prefer to connect and be engaged with, and what their specific pain points and goals are. Buyer persona development and customer journey mapping are vital for digging deep on these aspects.
22. "What Are the Essential Components of an Inbound Marketing Strategy?"
There are many moving parts in an inbound marketing strategy. The foundation of successful campaigns include:
Buyer personas
A consistent blog
Calls to action (CTAs)
Landing pages
Thank you pages
A structured reporting schedule
All of these pieces work together as part of your overall inbound marketing strategy. Each campaign you create needs to be tailored to your audience and efficiently managed to hit your goals in a timely manner.
Social Media
23. "What Social Media Network Is Best for My Company?"
Strangely enough, there is a definitive answer:
If you're a B2C company, then you usually want to be on Facebook and Twitter.
If you're a B2B company, you can get away with focusing principally on LinkedIn.
The fun and freewheeling nature of Facebook and Twitter make them perfect for connecting with people who are making purchase decisions in their own lives.
On the other hand, LinkedIn's most active users tend to be career-minded professionals. Many of them are B2B decision makers at one level or another.
Experts agree LinkedIn is responsible for the majority of B2B leads on social media – and it might actually be behind most B2B leads online, period.
24. "If I Only Have Time for Twitter or Facebook, Which Should I Use?"
This is a trick question. Twitter and Facebook have very different uses:
Twitter is great for connecting with new contacts and meeting social influencers.
Facebook is best for maintaining relationships with your pre-existing customers.
You can usually maintain both a Twitter and a Facebook account without too much extra fuss. Since the goals of the platforms are different, though, it's often better to customize your message on each one.
The biggest difference between them is that while all Twitter "tweets" show up on every follower's timeline, relatively few of your Facebook posts are delivered to your followers.
25. "How Do I Get More People to Pay Attention to My Social Media Posts?"
Assuming you're recruiting followers who have a genuine interest in what you have to say, there are some easy ways to get more attention – including likes, shares, and clicks – for your social media.
The first is to make sure you are adding lots of value.
The second is to include an accompanying graphic with every social update. Visual posts get much more engagement, including likes, comments, and shares.
26. "What's the Single Most Shareable Form of Content on the Web?"
Although video is highly shareable, a good infographic breaks the scale when it comes to shares. When an infographic is well-designed and presents data in an insightful, fascinating way, people will share it all over the place.
Just be sure it features your URL so they can trace it back to you!
27. "How Does YouTube Fit Into Digital Marketing? Do I Need A YouTube Channel?"
via GIPHY
YouTube is the world's #2 search engine by queries, second only to Google (of course, YouTube is a Google property). While everyone should aspire to post video content at least occasionally, it requires a whole different set of skills. Your digital marketing campaign usually won't start with video.
Email Marketing
28. "Should I Purchase a List of Contacts?"
In a word: No.
Buying email lists is never a good idea. First of all, these contacts never opted to hear from you specifically. So when they see your company pop in their inbox, they will either ignore it, delete it, and mark you as spam.
This can really hurt your deliverability score and actually slow down the success of your email marketing. Other potential negative consequences you can expect includes:
Hurting your reputation as recipients perceive you as a spam trap.
Wasting your money on a list of contacts who will unsubscribe from you.
Violating the General Data Protection Regulation (GDPR).
Getting penalized from your email service provider.
To put it simply, instead of trying to buy leads, you need to build your list organically.
29. "How Do You Grow Your Email List?"
To truly build your email list in an organic way, you need to launch a lead generation campaign. This involved creating a content offer, gating it behind a form, and placing your content offer on relevant webpages, like blog posts or services pages.
But your audience isn't just going to provide contact information off the cuff. You need to foster trust with them and leverage enticing CTAs with impactful copy to encourage visitors to opt in for your email list.
30. "What Does Email Marketing Consist Of?
In its simplest form, email marketing is just like direct mail campaigns. But instead of sending physical mailers to your leads, you're sending them content electronically.
Primarily, email marketing is used for keeping leads and customers informed about your company, educating them about specific areas of interest, and building relationships over time. You can launch lead nurturing campaigns, for example, that speak directly to a segment of your list and teach them about a solution to their main pain points.
Another common type of email companies leverage is an email newsletter.
31. "What Is an Email Newsletter?"
Email newsletters are often different from a specific campaign in that they run indefinitely. On the one hand, lead nurturing campaigns are usually just a series of messages, about four to six emails total. The content in these emails is specific to the kind of campaign you're running.
via GIPHY
Newsletters go indefinitely. They a channel for regular communication between you and your leads. They're not sales focused. Rather, they act as a service, where you continually deliver helpful content that leads your recipients to a solution.
Sometimes, newsletters can be centered on product updates, curated blog content, or just some fun, entertaining content that fits your audience. The most important element of your newsletter is relevance. When you're creating your newsletters, always consider how your content is helping your audience.
32. "How Do I Measure Email Marketing Success?"
This depends on the campaign you're running. Generally speaking, email marketing includes several key performance indicators (KPIs), such as:
Delivery rate – the percentage of emails you send that actually reach your recipients without being rejected.
Open rate – the percentage of emails your subscribers actually open.
Click-through rate – the percent of opened emails that are engaged with in a way that sends the recipient to your website (e.g., clicking an enticing CTA button).
You can get more granular in how you measure the success of your email marketing efforts. For example, if you're conducting a campaign to get people to sign up for a demo of your software, you need a closed loop reporting approach that attributes bottom-line results (e.g., demo sign-ups, sales) to your email campaigns.
Branding
33. "What Is Branding?"
To understand the concept of branding, you need to know what a brand is. A brand, in its simplest terms, is a set of features that make one company different from others. A brand consists of many assets, including a name, logo, taglines, design, and more.
Branding is the actual process you go through to research, develop, and implement the distinctive features of your business. This is not as simple as set it and forget it. Branding is iterative and it calls for continuously listening to your customers and gathering insights about your industry.
34. "What Impact Does It Have on My Business?"
Branding sets you apart from your competitors. It's how you define your unique value and present it to your target audience. There are many advantages of honing in on your branding strategy, including the following:
Branding supports your marketing and sales efforts, emphasizing recognition and expanding awareness.
Branding gives your employees a tangible identity to get behind and celebrate, which shapes your culture.
Branding, if effective, can be the deciding factor for consumers who are considering your products or services.
Branding sticks in people's memories, which helps build your credibility.
35. "Which Elements Should I Prioritize?"
The first aspect to focus on is, you guessed it, your audience. You need to know who you're tailoring messaging for and how to position your brand in a way that catches and holds their attention.
As you're branding your business, collaborate with your teams to define your mission statement, core values, and value propositions. All of these aspects influence the visual assets your marketing team will need to create (e.g., your logo, brand style guide, website design) as well as your brand voice.
36. "How Do I Establish My Brand?"
This is where your brand identity comes into play. Brand identity is made up of your values, how you communicate your value, and what you want your audience to feel and experience when they interact with your company.
As you can imagine, this doesn't simply happen on its own. Establishing your brand identity and rising above your competitors requires consistent marketing through various methods, including content, email, digital advertising, and more.
The definition of "establishing" your brand comes down to you defining the identity of your business and gaining an audience who are aware of you, recognize you, and trust you as a credible voice in your industry. A tall order, but it can be achieved through tactful marketing strategies.
37. "Where Should I Put Branding?"
Your branding should be consistently used throughout your entire online presence. It's important to understand the role branding plays in your marketing.
Start with a brand audit to see how your brand currently performs and identify opportunities for expanding brand visibility. Then, you can execute a branding strategy while ensuring consistency across all touchpoints your audience will experience.
38. "What Are the Fundamentals of a Successful Branding Strategy?"
Your brand's success is determined by a number of key aspects, including:
How you plan and organize your branding strategy.
What you do to monitor performance and assess ongoing initiatives.
How you address feedback from your audience.
How you evolve your branding to address clear issues.
What you do to deliver consistent branding across all your channels.
By focusing on these fundamentals, your team is set up for success. Make sure you're consistently supporting your branding strategy for the long term.
Transform Your Digital Marketing Today
These 38 nuggets of wisdom are derived from our experience, but there's always more to learn about digital marketing. Strong marketing teams know the importance of testing, learning from successes and failures, and continually evolving over time. This is how companies see big results – consistent experimentation and commitment to learning along the away.
The more you stay informed on current insights and best practices, the better prepared you are to hit your marketing goals and fuel consistent business growth.